My Inquiry
At the beginning of this course one of my learning goals was to explore the ways in which technology can best support myself and my grade 2 students with inquiry-based research projects. Last year I attempted to guide my learners through independent inquiry projects about Canadian provinces/territories. Even though all of my students had created a successful product in the end, the learning process was chaotic and left myself and my learners feeling lost/overwhelmed. Emily shared a similar experience of her own trials and tribulations with inquiry so we decided to team up to explore technology-supported inquiry together. Our learning journey in this course has allowed to us to research and understand what methods and technological resources can best support the inquiry process with young learners.  Additionally, our engagement with other educators has shown us that learning is chaotic at times and that the chaos does not deem learning as unsuccessful.
BC Curriculum
Through weekly discussions with my learning pod, Ashley, Emily and I kept circling back to feeling of being overwhelmed as educators to address all mandated curriculum, while also trying to prioritize our learners interests and curiosities. From our own reflections and the exploration of scholarly research, we realized that our preservice teacher training taught us to schedule every minute of our students learning, when really the redesigned BC curriculum truly supports inquiry-based education. Within the redesigned curriculum there are different curricular areas to target learning, including the big ideas, content, circular competencies and core competencies. I have noticed that many teachers at my school view the big ideas and content areas of the curriculum to be the most important faucet and therefore develop the majority of their lessons around these outcomes. The North Vancouver School District, however, is currently piloting many initiatives to transition educators mindsets to switch their focus to teaching core competencies (Thinking, Communication, Personal and Social). Teaching through the core competencies creates the necessary freedom to allow our students to explore their interests whether or not their interests happen to be perfectly aligned with prescribed grade content. Throughout this term, it has became evident I can create personalized inquiry-based learning for my students while still following the curriculum regardless of the specific content their curiosity pairs with.
Inquiry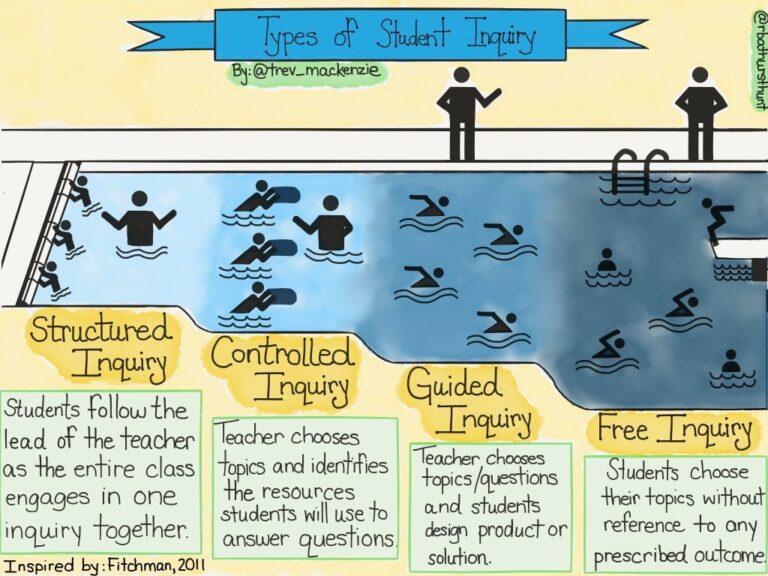 When Emily and I first begun our exploration of inquiry-based pedagogy we both felt the term "inquiry" was used differently by educators and scholarly articles to describe a vast range of learning methods. This image created by Trevor Mackenzie helped guide us to understand how different levels of inquiry can be represented. I realize now that at the beginning of this course I was seeking to understand how to immediately implement Guided Inquiry or Free Inquiry in my classroom without providing the necessary scaffolding for my students. Through out this course, I have learned that initially beginning with Guided Inquiry is generally too overwhelming for learners who have not yet been given the opportunity to freely explore their curiosities in formalized education. Through a video conference with Trevor Mackenzie, he recommended that Emily and I that we begin with Structured or Controlled Inquiry to scaffold our students learning. He also recommended sharing his "Types of Student Inquiry" image with our students so they can also understand the various types of inquiry. Trevor emphasized the need to support student inquiry to bring value to young learners innate curiosities and wonders. He additionally shared the successes he has experienced with teaching an inquiry-based model and how technology has supported his pedagogy. With the knowledge of the steps I needed to take to incorporate inquiry within my classroom, I begun a further investigation into the best-suited technology that is available to support young students (which is outlined later in my reflection).
Theory
For the purpose of Emily and I's formalized paper, we sought out pedagogical theory to support our findings on inquiry-based education. We found the following theories aligned with supporting inquiry and agency within the classroom:
Sociocultural theory

The societal content in which one lives influences ones personal development and understanding of the world. The classroom environment acts as a small society that similarly shapes learners. Supporting student agency within the classroom advocates to learners that their curiosities matter.

Constructivism

Students use prior knowledge and lived experience to construct their own understandings. As students inquiry into their own interests they are constructing their own knowledge of the given topic. Technology furthers supports constructivism as it allows learns to assess multiple perspectives and narratives.
Multimodality

There are many ways students express their understandings, including through the use of technology. Technology transforms the ways in which students can share their learning.
Technology Resources to Support Inquiry
Throughout this course, I discovered the following research which outlined recommendations for aligning inquiry and technological use with young children:
1. As stated by Wang, Kinzie, McGuire, & Pan, 2010 (2010) technological resources used to support inquiry should:
(a) enrich and provide structure for problem contexts
(b) facilitate resource utilization
(c) support cognitive and metacognitive processes (p. 382)
2. According to the SAMR Model, technology should predominately be used modify or redefine a task.
3. While Mackenzie and Bathurst-Hunt (2018) argued that technology should only be implemented in the classroom if it is transformative and some facet.
With the knowledge of what technology research states to incorporate in the classroom, I have accumulated various websites and apps that I am excited to begin in my classroom.
Research Tools and Child-Friendly Search Engines
Swiggle is a child-friendly search engine that displays pictures along side words for even search results. It is one only search engines I found that had very limited distracting advertisements Since it is an UK website the search results my not be tailored to Canadian students.
KidRex is another child-friendly search engine however it does have a few more advertisements which may be distracting for learners.
Read and Write is an extension that can be added to your browser in google chrome. This tool could allow students to research their individualized inquiry with the much needed support to assess the information available. Read and write has options of text to speech, picture dictionaries, dictation and much more.
This website allows you to copy and paste a URL and it will generate the average level of readability for the given website. I am excited to utilized this website for quick reference when locating online resources for my students.
Documentation of Learning
Fresh Grade allows students to document their learning through text, videos and pictures. Emily shared her successes of using Fresh Grade with her students.
Seesaw, similarly to Fresh Grade, allows students to document and share their learning. I have been using this platform for 2 years now with my students and I am thoroughly enjoying it.
This app was introduced to Emily and I by Trevor Mackenzie. It allows students understand their voice matters. I am especially interested to start using this app  with my young learners.
This app allows students to combine their images to share their learning. Again, this app is suited for young learners and requires minimal need for reading.
Moving Forward 
This course, has only just begun my learning journey of implementing inquiry into my classroom. The inquiry structure of this course not only allowed me to pursue a topic relevant to my teaching, but also furthered my understanding of a student's role within inquiry. Moving forward, I recognize that the technology I am introducing to students needs to be developmentally assessable while also transforming the learning process. Additionally, I recognize that integrating technology into my classroom might feel chaotic at first but that it is okay for learning to look "messy" at times. I am excited to begin using the technological resources I have discovered in this course to support my students inquiries.
Bye for now!
Mrs. Phillips
References
BC's New Curriculum. (2016). Retrieved from https://curriculum.gov.bc.ca/competencies.
MacKenzie, T., & Bathurst-Hunt, R. (2018). Inquiry mindset: Nurturing the dreams, wonders, and curiosities of our youngest learners. Irvine, California: EdTechTeam Press.
SAMR Model: A Practical Guide for EdTech Integration. (2017, October 30). Retrieved from https://www.schoology.com/blog/samr-model-practical-guide-edtech-integration.
Wang, F., Kinzie, M. B., McGuire, P., & Pan, E. (2010). Applying technology to inquiry-based learning in early childhood education. Early Childhood Education Journal, 37(5), 381-389. doi:10.1007/s10643-009-0364-6
**The use of Trevor Mackenzie name was used with his approval.